A leading NHS SUPPLY CHAIN Framework supplier of Medical Devices & Consumables
We supply quality medical equiptment
We supply single use Sterile instruments
Medical Consumables and Diagnosis
Convective Warming System
External Defibrillator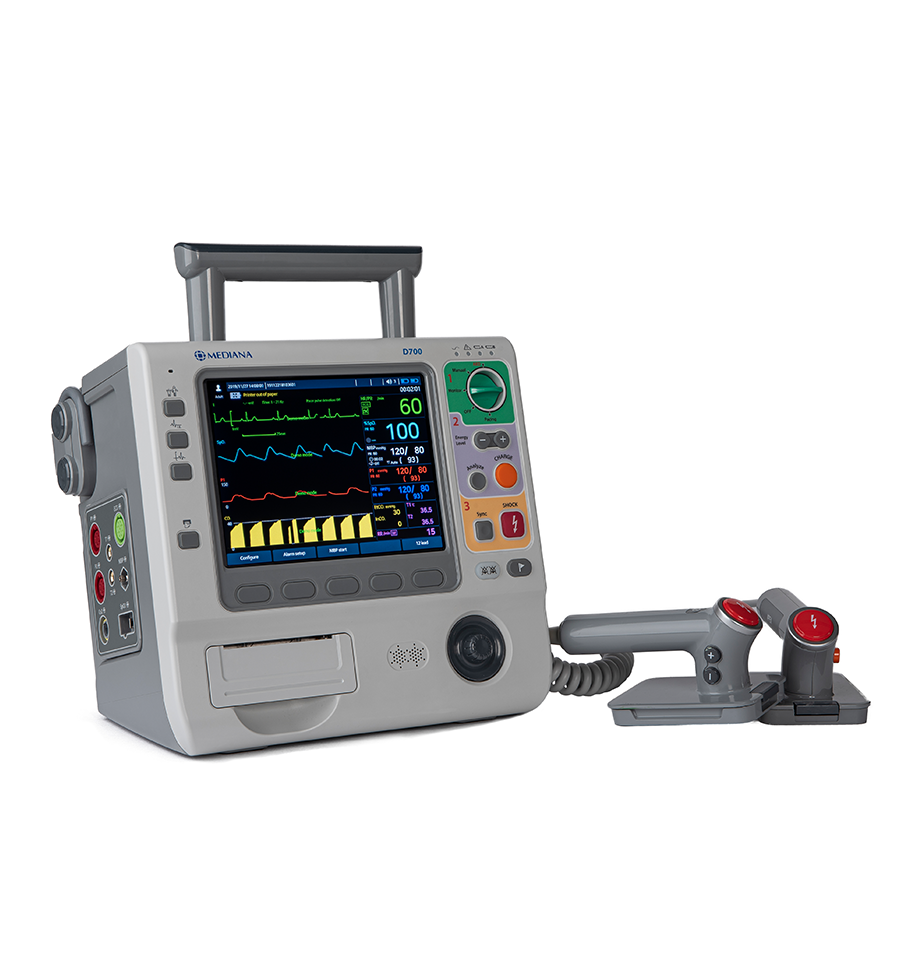 Ref: D700
Comprehensive Solution for your needs in Critical and Intermediate Care
Defibrillation Mode, Monitor Mode, AED Mode, Pacing Mode are all in one
Cardioversion function enables to deal with atrial fibrillation.
Internal defibrillation function enables open chest defibrillation.
1~360 joule energy selectable.
Implementing the custom shock sequence by applying Energy escalation function.
Patient Impedance Range: 25 ~200ohm.
First and only 12 leads ECG diagnosis function (Glasgow algorithm) in Korea.
Automatically change energy based on choice and possible selection of adult and child patients.
Built-in 5 country voice / text guide selectable (voice / text group can be specified.
CPR feedback function enables effective CPR implementation.
Voice recording confirms and strengthens on-site measures.
Multi-parameter function – 3, 5 leads ECG, SpO2, 2 IBP, 2 temp. EtCO2, NIBP.
Ambulance holder – Enhances usability by applying rechargeable wall mount.
Bed rail function enables patient bed to be fixed, enhancing usability.
2 batteries installed, extending the battery life to 9 hours.
Pacing current max 140mA possible.
Equipped with 80mm thermal printer leads to expressing 3 channel waveforms.
| | |
| --- | --- |
| D700 | D700 Basic (Manual Defib, AED Mode, 3/5 Lead ECG) |
| D700-P | D700 Basic + Pacing |
| D700-D | D700 Basic + SpO2 (Mediana MD1) |
| D700-S | D700 Basic + SpO2 (Medtronic) |
| D700-LSP | D700 Basic + 12 Lead ECG + SpO2 (Medtronic) + Pacing |
| D700-LSNTBP | D700 Basic + 12 Lead ECG + SpO2 (Medtronic) + NIBP/Temp + Pacing |
| D700-LSNTBP | D700 Basic + 12 Lead ECG + SpO2 (Medtronic) + NIBP/Temp + IBP + Pacing |
| D700-LDNTKP | D700 Basic + 12 Lead ECG + SpO2 (MD1) + NIBP/Temp + ETCO2 (Main-Kingst) + Pacing |
| D700-LSNTBMP | D700 Basic + 12 Lead ECG + SpO2 (Medtronic) + NIBP/Temp + IBP + ETCO2 (Main-Resp) + Pacing |